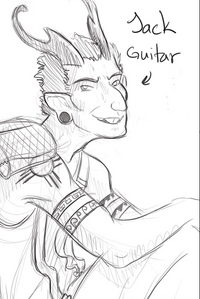 Jack is a Jackalope. This may be why he is called "Jack." If this isn't his real name, his real name is unknown. He resides in the Liverpool Avalon, but is originally from the United States. He hangs out with Royce and Phoenix, and is the guitarist in the Four Horsemen.
Jack regularly undertakes (and wins) Bar bets, and Tim states that Jack has never lost one. Jim suggests that this is because he is highly magical
Ad blocker interference detected!
Wikia is a free-to-use site that makes money from advertising. We have a modified experience for viewers using ad blockers

Wikia is not accessible if you've made further modifications. Remove the custom ad blocker rule(s) and the page will load as expected.