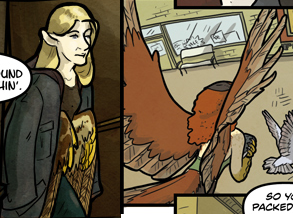 A female-only race of bird-women that are classified as
monsters
.
Abbie
, who runs the nightclub with her husband, is a Harpy.
It's been suggested that Anthony may also be a harpy, despite him being male, since there seems to be strong enough magic involved with his transformation to break the natural rules.
Species Information

Region of Origin

Greece

Subspecies

Aellean, Okepetian, Podargian, Celeanian

First Appearance in Comic

Exchanges: Handshakes, page 29
Subspecies
Edit
According to Madam U 's description, this subspecies of harpy is known to have wing-arms.
Okepetian
Edit
Abbie is an Okepetian harpy and has six limbs: bird feet, humanoid arms, and feathered wings.
Podargian
Edit
These Harpies appear to have human faces but bird-like bodies.
Celeanian/Celean
Edit
These harpies apear more monstrous than other harpies and have bat like wings.
External Links
Edit
Ad blocker interference detected!
Wikia is a free-to-use site that makes money from advertising. We have a modified experience for viewers using ad blockers

Wikia is not accessible if you've made further modifications. Remove the custom ad blocker rule(s) and the page will load as expected.