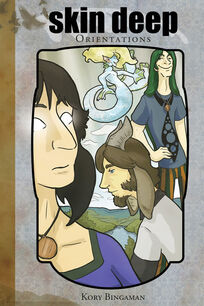 These are full-color soft-cover printed copies of the Skin Deep comic, which is otherwise only available online. Orientations is available for 30 dollars, and includes Fiddler's Cave. The One-Eyed Bear is available for 5 dollars. There are plans to also print Exchanges when it is completed.
The books are available through Indy Planet. (here)
Ad blocker interference detected!
Wikia is a free-to-use site that makes money from advertising. We have a modified experience for viewers using ad blockers

Wikia is not accessible if you've made further modifications. Remove the custom ad blocker rule(s) and the page will load as expected.